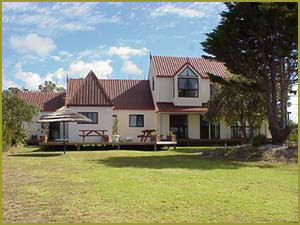 Originally built as a family home, North Wind Lodge has a 'cathedral-like' appearance, set on 10 acres of seafront land.
The Lodge offers budget accommodation with touches of luxury. Bedding & towels are provided, and you're welcome to borrow a sand sled to ride the spectacular Te Paki dunes.
Still in the family after 20 years, the Lodge is run by seasoned travellers who know what it's like to travel on a budget. The small shop has all the essentials, including pasta, canned goods and chocolate.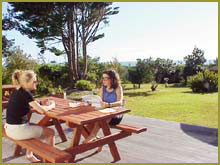 What they're saying about North Wind Lodge:
"We always used to say, " there's no place like home". But here, so far from home, we felt as if we were at home!"
Saar and Shiri (Israel)
"The loveliest hostel ever. Wish we could stay much longer and forget the rest of the world exists. See you next summer."
Anita and Steve, (UK)
"Easily the comfiest, cosiest, friendliest backpackers in NZ, and your fishing spot is gorgeous. Love to stay, sad to go."
Jackie, Al and Iain (Scotland)